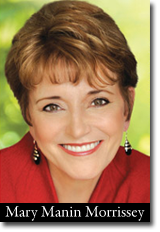 Mary Manin Morrissey

Karen Joyce

Mat Boggs
Who is Mary Morrissey?
Speaker, best-selling author, and consultant for over three decades, Mary Morrissey's transformational talks and seminars have made her one of the elite teachers in the human potential movement. Over the past 30 years, Mary has helped churches fundraise millions of dollars and supported hundreds of ministers all over the country increase the reach of their ministry exponentially. While she built one of the largest New Thought Centers in the world, Mary is no stranger to mega success as well as massive failure. In 2004, Mary lost her church and everything she had worked for over the previous 25 years. After this crushing loss, Mary put the Prosperity Principles to the test. Starting from ground zero, and harnessing the Universal power of these spiritual laws, Mary rebuilt her success and great work in the world.
Mary is the founder and CEO of LifeSOULutions, a successful international company providing programs and products that transform dreams into reality. Mary has spoken at the United Nations, met with Nelson Mandela, lead meetings with the Dalai Lama, and authored two best-selling books, No Less Than Greatness and Building Your Field of Dreams. As a highly sought after inspirational speaker, executive coach, and ministry consultant, Mary has 30 years of experience empowering individuals in achieving new heights of spiritual aliveness, wealth, and authentic success. While she holds significant academic degrees, Mary says her two most important achievements are the two black belts she holds: one in success, and the other in failure.
Who is Karen Joyce?
Karen Joyce is Mary's business partner in LifeSOULutions. She is an executive coach, successful business entrepreneur and dynamic motivational speaker. In 1999, inspired by the Columbine tragedy, Karen founded AKTNOW, a non-profit organization, creating Acts Of Kindness teams in high schools throughout the U.S. As an executive business coach Karen has been leading successful speakers, artists and business people to higher levels of success.
Who is Mat Boggs?
International speaker, certified LifeSuccess consultant, and best-selling author, Mat Boggs has dedicated his life to increasing Love in the world one heart at a time, and illuminating the greatness in others. Sold out audiences around the world are raving about Mat's comedic and powerful presentations and seminars. Mat's appeared on dozens of national media venues including: The Today Show, CNN Headline News, Fox News, CNN Showbiz Tonight, ABC Family, Oprah and Friends XM, Good Morning America, the Hallmark Channel, The Washington Post, The LA Times, The Daily News as well as contributed to an international peace symposium with His Holiness the Dalai Lama. As a sought after dream building consultant and love/relationship coach Mat has helped CEO's, entrepreneurs, authors, sales people, and professionals around the world achieve extraordinary results in their business and personal life.
Do you have any questions or need support?
For More Information Contact
Rev. Colleen Schuerlein
503-860-2049
Prosperity@MaryMorrissey.com